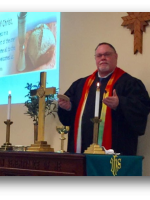 Rev. Rick Modglin-Green is currently serving as the Pastor at First Christian Church (Disciples of Christ) Findlay Ohio.  Prior to the call to Findlay Pastor Rick served for ten years at the Associate Pastor at Central Woodward Christian Church (DOC) in Troy, Michigan.  He received clergy standing with the Christian Church (Disciples of Christ) in December 2012; when the denomination accepted and affirmed his ordination.
Pastor Rick was ordained in November of 2000 by Rev. Samuel Kader. Pastor Rick has also served in several ministry positions with prior congregations.  Pastor Rick and Wes along with four other people planted Praise Fellowship Christian Church in 2000 where he served as pastor until 2011.
Pastor Rick holds a Bachelor Degree in Business Administration, majoring in Accounting from Western Kentucky University. He also holds a certificate in Religious Studies from Samaritan Institute and completed a Master's degree in Theology from Trinity Theological Seminary.
Rev. Rick serves as President of the Board of Directors of Hands Across the Waters, an adoption & foster care agency located in Ann Arbor Michigan. Pastor Rick originally joined the Board as a representative from the LGBTQ community in 2012. His family has been blessed by adoption and he serves as a way to give back to the community.
Pastor Rick has over ten year's experience in accounting in the Credit Union industry. He resigned as the Accounting Supervisor of LOC Federal Credit Union in 2004 to dedicate himself fulltime to pastoring Praise Fellowship Christian Church, where he pastored over 11 years. His ministry continues to be Expanding the Kingdom of God by welcoming all people to God's table.
Pastor Rick and Wes, his partner since 1995 were married in a private ceremony in New York in August 2013 by a Disciples of Christ colleague. Rick, Wes and their  son, Richard reside in Findlay Ohio.