Who are we as a local church family in Findlay, Ohio?
Our church family has been here since the early days of Findlay. First Christian Church (Disciples of Christ) got its start in 1884, the same year the first natural gas well came in on the east bank of Lye Creek near Findlay. During the early years of the church's life, worship services and Sunday School were held in the courthouse assembly room, in a school house on South Main Street, and in the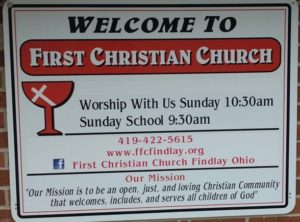 old German Reformed Church. When the weather became warm, worshipers even took their chairs and moved outside! Church membership grew in those early years. In 1887, the congregation purchased a lot near the site of our former sanctuary at 620 North Main Street. That building was soon found to be too small and an addition was built. A fire almost totally destroyed the building on January 9, 1913. The building could not be saved, so the congregation purchased the lot next to the original site and built the building in which the congregation worshipped until January 2016 – the building with the four white pillars in the front. The building was paid for within ten years of its dedication on June 6, 1915. Changes that took place in the building over the years included the addition of office space, music room, nursery, and chapel in the 1970s.
In April 1957, the name of the church was changed to First Christian Church (Disciples of Christ). Our church family is one of 3,754 congregations in what is known as the Christian Church (Disciples of Christ) denomination, which numbers about 691,000 in the United States and Canada.
Throughout the years, our church family has participated in and supported outreach ministry to many local charitable organizations. Our church is one of the founding members of the Hancock Christian Clearing House which gives aid to people in financial need. In fact, First Christian Church provided the first home for the Hancock Christian Clearing House and housed this important resource for 12 years before it moved to the Family Center in Findlay. We as a church family continue to support that agency, as well as Chopin Hall, the City Mission, and food pantries.
In July 2016, First Christian Church sold its North Main Street facilities and moved into leased space at 1624 Suite B Tiffin Avenue in Findlay.  This courageous and faithful step made it possible for the congregation to spend more of its resources in the pursuit of Christ's mission and ministry and less on a physical structure.  One year later, the congregation unanimously voted to call the Reverend Dr. Jack Sullivan, Jr. as its senior pastor.
With our mission statement and through our actions, our church family has a strong emphasis on diversity and inclusiveness, regardless of gender, race, culture, ethnic background, sexual orientation, economic circumstances, family configuration, or difference in ability. That is a characteristic of our local church family as well as our wider denomination – everyone is welcome without exception.
Communion, The Lord's Supper or The Eucharist as some Christians call it, is the high point of our worship and is celebrated each Sunday. Throughout our denomination, the celebration of the Lord's Supper weekly and inclusively, open to everyone who believes in or is seeking Jesus Christ, is an emphasis.
Baptism is a celebration of one becoming part of the family of Jesus Christ. First Christian Church practices baptism by immersion. One need not be re-baptized when one becomes part of our church family, however. We recognize the baptisms of folks who come to us from other Christian traditions, even if those traditions do not practice immersion. As with other congregations within our denomination, First Christian Church is congregationally governed and is committed to following the light of scripture and the guidance of the Holy Spirit in all matters.  We have only one requirement for membership – belief in Jesus Christ and acceptance of Him as Lord and Savior.
As by God's grace First Christian Church is a growing church family, our worship services and ministry expressions are intentionally inclusive of everyone, from infants to those in their '90s and beyond. Inasmuch as we know that everyone was made in the image and likeness of God, and as we joyfully understand diversity to be a gift of God, First Christian Church feels privileged to make use of worship elements from our ecumenical partners, and to weave in music, writings, educational resources, art, and images that reflect the multiracial and multicultural fabric of humanity   We are always aware of our unity with the church and with the world and the fact that we are a part of the worldwide body of Christ.
Given that we are in a new location with a new senior pastor, First Christian Church is experiencing new levels of energy and excitement about what it can do to bring people of no faith to faith in Jesus Christ. We feel the Holy Spirit is retrofitting us to impact the community and larger realms through bold and even risky ministries of love, justice, peace and hope to all, and particularly to those who are have experienced hurt, discrimination, brokenness and despair. Perhaps as never before, we are opening ourselves to the inspiration, direction and glorious power of the one who makes all things new, Jesus Christ. In Christ's name and by his grace, we are convinced that our best days are not behind us but ahead of us!
Click here to learn about our Denominational Affiliation