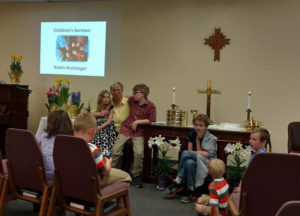 We view children as a special gift from God.
Through dedicated teachers, we teach children to love God and His word in Sunday School classes which meet at 9:30 AM. A preschool class offers learning about Jesus with hands-on activities which include Bible stories, crafts, and play. Elementary age children learn to know and love Jesus by studying Bible stories, fellowship, and crafts.
During our 10:30 AM worship, there is a Children's Sermon. There is a children's choir which sings for worship on occasion.  There is also a nursery for young children during worship, as well as a Jr. Church for second grade and under.
Our goal is for our children to accept Jesus as Lord and Savior and to be baptized.