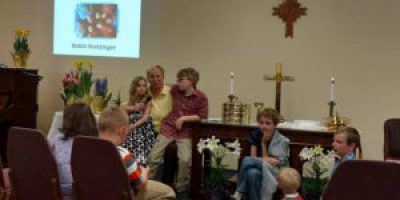 We view children as a special gift from God and as being an important part of our ministry.
Through dedicated teachers, we teach children to love God and His word in Sunday School classes which meet at 9:30 AM. A preschool class offers children an opportunity to learn about Jesus with hands-on activities which include Bible stories, crafts, and play. Elementary age children learn to know and love Jesus by studying Bible stories, fellowship, and crafts.
During our 10:30 AM worship, there is a Children's Sermon. There is a children's choir that sings for worship on occasion.  There is also a nursery for young children during worship, as well as a Jr. Church for second grade and under.
Additionally, throughout the year we offer programs such as "Parent's Night Out" which allows children to play games, make crafts, and have fun while parents have time to do errands or have some time to go out and enjoy time without having to supervise their children.  We also offer our "Halloween Trunk or Treat" in our back parking lot allowing kids to go trick or treating in a safe environment.
To check out our special events geared for children, check out our events calendar on our website.